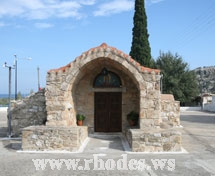 If you are looking for a sun-drenched getaway, a big slice of Greek hospitality and your own quiet spot on the beach, Kalathos village is definitely the ideal place for your Rhodes holidays! Part traditional village, part small resort, Kalathos is located halfway down the east coast road, right in the middle of the eastern part of Rhodes Island, 45 km from Rhodes city and only 6 km from the bustling nightlife of Lindos.
Ten minutes from Kalathos you will discover the clean and peaceful 4km Masari beach, a mix of sand and pebble, always extending, so you'll always be able to find your private patch.
For a sandy spot, try the nearby Vlicha. The beach is well organized - sun beds, a beach bar and there are also water sports if you want a bit of action.
Your perfect realaxation is safe on Kalathos beach because, being so extended, it is unlikely to ever be too crowded, no matter how many people gather here.
You can choose one of the inviting bars and tasty tavernas sprinkling along the beach, to enjoy a peaceful light lunch or simply a Greek liqueur. The restaurant choice is not so generous in Kalathos village, but you can always take a taxi to Lindos and enjoy a nice dinner with a rooftop view out to sea.
The nighlife is also calm and relaxed in this quiet spot - mainly hotel bars and clubs, but there is always Lardos village to go to, only 6 km away or, further more, the wild life of Faliraki, about 40 km away.
In the mood for a little sightseeing? In Kalathos you are very well placed to start an island exploration by car - you can drive further south, for the remote villages with their virgin beaches. After every curve of the road, fresh, breathtaking views amaze you, and many of them feature Turkey on the horizon.
If you want to add a bit of shopping too, take the bus for the lovely Rhodes Town, or pay a visit to the amazing Acropolis and the handicrafts in Lindos village nearby.
Kalathos village is ideal for individuals, groups and families looking for peace and quiet.