Kalathos Beach Rhodes Island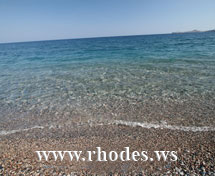 When thinking about your private spot on the beach, but to benefit also of good facilities, Kalathos beach is the answer! It lies on the eastern coast of the island of Rhodes, 50 km from the romantic Rhodes Town and only 7 km from the picturesque Lindos village.
The vast sandy and tiny pebbled-beach Kalathos stretches along the shore for 4 km, offering well-organized public areas along with savage sectors. Take your time and find the perfect relaxation lying on the lovely wooden sun beds, under a bamboo umbrella. Whenever you need refreshment, an ice-coffee or a light Greek salad are just perfect after a day under the sun of Greece, there are some picturesque tavernas tempting you along the beach. You can try your hand with the water sports, or simply enjoy a long swimming in the inviting blue-waters. Being so long, the Kalathos beach never gets too packed, not even in the busy August, and you will easy find your perfect spot to work on your tan.
When you feel like a break from the sun, you can explore Kalathos village, just 20 min away from the beach, to strike a photo of the lovely church of Aghios Ioannis and the ancient oil-press nearby. You can also admire the Acropolis ruins at Lindos, just a short drive away. Take the northern road, and you will reach the secluded Agathi beach, and the Haraki village, where you can treat your palate with a delicious grilled fish, freshly captured.
For a nice day under the sun, with good facilities just at your fingertips, Kalathos beach is definitely the Rhodes island spot to chose at your next Rhodes Holidays.