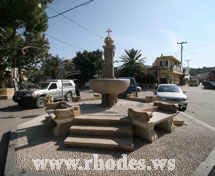 There are only two things to have in mind when coming to Lardos
• the idyllic Lardos beach and
• the traditional village,
and they will work together for your perfect holiday in the island of Rhodes!
Surrounded by green groves and fields, Lardos lies 7 km south of Lindos, in the south-eastern side of the Rhodes island.
Get lazy and find your perfect relaxation on the picturesque sandy Lardos beach, or try a snorkeling session in the clear waters of the Aegean - in the open sea, the coast surpass 4 km in depth, almost the deepest to find in the Greek seas.
There is everything at your hand to relax on Lardos beach
• parasols
• sun beds
• and water sports,
along with a perfect sea breeze to temper the sun's heat.
When having enough of sun, sand and sea, discover the real traditional Greek life in the center of Lardos.
You will find friendly smiling people, wishing to make you feel like home, and you might get lucky to attend a traditional wedding in the plateia (square).
1. Strike a photo of the impressive bell-tower and the tall cypress trees in front of the church of Agios Taxiarchas.
2. Cool off next to the pretty Italian Vrissi (fountain), inspired set in the middle of the square, and chose one of the old charm cafes, to grab an ice coffee or an ouzo and watch the warm life of the Lardos village, with the relaxing sound of the fountain in your years.
3. Taste the local high-quality "Pastitsio" or have the Grilled lamb in the traditional Greek style at one of the few restaurants in the square.
4. If you want to bring home a special souvenir, look out for the traditional rugs or the locally produced pottery. For a wider selection of shops, Lindos village is just a short taxi ride away.
5. Explore the surroundings of Lardos, as there are a few smaller picturesque villages, such as Kiotari, where you can try the fresh fish and seafood brought directly from the sea by the local people. And there's again the picturesque Lindos just nearby, with its impressive Acropolis and the remains of the Temple of Athena.
One thing is for certain, you'll find yourself always coming back for more Rhodes holidays in the idyllic spot of Lardos of the appealing Dodecanese complex!