Vlycha Beach Rhodes Island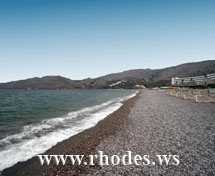 Vlycha is a lovely sandy beach, excellent for families with small children, looking for a quiet but not isolated spot. This nice beach is lying on the eastern coast of the Rhodes Island, 47 km away from Rhodes Town, and only 3 km from the picturesque and cosmopolite Lindos.
Set in a charming bay, Vlicha beach offers all facilities to enjoy a pleasant day under the sun. It is a great alternative to all three beaches in Lindos Bay, and also the Saint Paul's bay nearby, offering a lot of space and definitely, being much less noisy than its famous neighbors. Looking up for even more privacy? Well, choosing the right end of the beach will offer you the most secluded spot in Vlycha. If you're with the little ones, you can enjoy your time on the beach without worrying about them, as waters deepen smoothly and gradually.
There are two cozy beach tavernas at Vlicha inviting you for a light lunch and a refreshing ice-coffee facing the sea.
The proximity of the remarquable and famous Lindos village guarantees the spice needed for your family Rhodes holidays to be just perfect – the famous Acropolis ruins to explore, the boat trips to Symi Island or even further in Marmaris, Turkey, and the nice selection of restaurants, bars and tavernas for spending a pleasant evening. And don't forget that the romantic Rhodos, with history, cosmopolite atmosphere and excellent shopping is just an hour drive away!
The charming Vlicha beach is the perfect spot for a family holiday on the eastern coast of the amazing Rhodes Island!