Lindos Beach Rhodes Island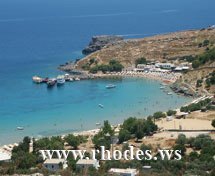 Lindos Beach doesn't need any introduction, as its name gain its prestige being one of the most popular spots in Rhodes Island and in Greece too. Set about 50 km away from the Rhodes Town, Lindos nestles actually three beaches. Megali Paralia is the main beach of Lindos, and tempts you with an inviting golden brown sand to lie on and work on your tan. Agios Pavlos Bay is a sand and pebbled beach, south of the Acropolis of Lindos, actually a paradise for divers, because of the scenic rocks in the waters. And there is also the quiet Lindos Pallas beach, perfect if you're with the little ones, as the sea is shallow and very clean.
Colorful umbrellas and sun-beds are available to rent on all three beaches of Lindos. You can try your hand on water sports, swim in the clean and clear blue waters, sip a refreshing ice-coffee or enjoy a fresh fish at one of the beach tavernas – there's plenty of amusement for everyone at Lindos! Being so famous, lots of visitors come here everyday from all parts of Rhodes island to spend their day, so it might be difficult to find a quiet spot on the beach, except Lindos Pallas.
If three beaches are not enough to explore, and you need a much quieter alternative, Kalathos beach is just a short drive away, offering 4 km of well-organized public areas along with savage sectors, or, only 3 km away you have Vlycha beach to find your perfect spot.
Lively and with a modern atmosphere, Lindos beach worth paying a visit during your next Rhodes holidays adventure in Rhodos Island.