Kremasti Beach Rhodes Island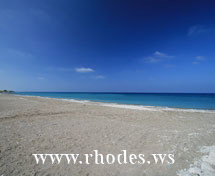 There are two things inviting you to pay a visit to Kremasti Beach - the fine sand and the proximity of the Valley of Butterflies.
Laying in front of the Kremasti village, one of the biggest settlements on the northwestern coast of the Rhodes Island, Kremasti beach is situated only 12 km away from the romantic Rhodes Island.
The beach is simply lovely - a picturesque stretch of golden sands and little pebbles extended 10 more kilometers along the western coast, amazing blue waters. Green tree clusters boarding the beach complete the idyllic scenery - your camera will simply love the color combinations on Kremasti beach.
The crystal clear waters invites you for a long swim, while your sun bed and umbrella guarantee a complete relaxation under the sun of Greece.
The beach tavernas tempts you with refreshing ice-coffee and mouth-watering Greek meals. In the afternoon you can safely bring the little ones to splash safely in one of the beach hotel pools, while you try your hand at the wide range of water sports.
The excellent position of Kremasti beach enables you to pay your respects to all the important spots in the area. Rodos city is inviting you with a very impressive dash of history, a lovely session in the Turkish Quarter, and a delicious seafood meal at the city harbor.
The cosmopolite Ixia beach is only a short drive away to the north, while at the opposite eastern point the village of Faliraki tempts you with a wild night in one of the most popular spots in the whole Dodecanese complex.
For a lovely approach of the beautiful sea scenery and the proximity of the major points of interest in the Rhodos Island, Kremasti beach is definitely a spot you should point on your Rhodes holidays map of Greece!