VALLEY OF THE BUTTERFLIES Rhodes Island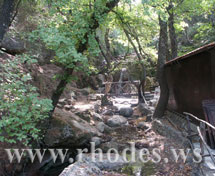 Valley of Butterflies
Welcome to the beautiful island of Rhodes. Known for its mystical historical monuments, gorgeous beaches and sun filled weather, Rhodes is a tourist's delight. Whether you are here for a holiday with your family or as a couple or are on a business trip, Rhodes offers you a variety of places to visit like no other place in the world. And this is why a trip to Rhodes is one the most sought after destination in the world.
Visit the monuments if you are a fan of historical details and want to know more about the glorious past of Rhodes. Travel through time in the Old town of Rhodes which has been preserved and is considered a world heritage site by UNESCO. Laze around on the Rhodes' beaches and explore a host of water activities that you can do. Enjoy the bustling nightlife of Rhodes in various bars and pubs that give you an opportunity to dance around through the night and forget your worries. Or most of all experience the natural flora and fauna of Rhodes that awaits you in all its glory. So take a trip to Rhodes and experience all this by yourself.
A place where you can witness the natural glory of Rhodes is the Valley of butterflies. It is a unique and one-of-its-kind natural park, where every year thousands of colorful butterflies appear. This happens every year from mid June to end of September.
The valley has little lakes, wooden bridges on various spots of the little river Pelekanos and romantic and quiet paths across the forest. It also houses a restaurant which looks over to a sparkling waterfall. You can be mesmerized by some of the rare species of butterflies which will enchant and capture your heart.
You can also visit the near by monastery of Virgin Mary Kalopetra while making a visit to the valley of Butterflies. Every year this place is flocked by visitors from all across the world who come to admire this rare natural scene.
The valley of butterflies is located 10kms from the airport and is near the Theologos village. It is one of the most famous destinations in Rhodes and you should definitely include it in your vacation.
You can easily reach here by bus or in taxi and enjoy a sight that can take your breath away. It is however good to remember that this is a place to preserve butterflies and one should take care to not threaten their habitat in any way.
So visit this natural delight and add spark to your Rhodes Holidays.