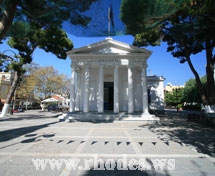 KREMASTI-RHODES
Kremasti offers you the facilities of a modern resort along with an authentic piece of traditional Greek life.
Situated 12 km southwestern to Rhodes Town, the village is actually one of the biggest settlements of the island, attracting its visitors especially because of the long sandy Kremasti beach as well for Valley of Butterflies nearby.
Your will love swimming in the deep blue waters and relax on the well organized beach extended 10 km along the western coast. Your little ones will splash safely in one of the Kremasti hotel pools, and you can have a great time trying the wide range of water sports. Take a lovely nap at the shadow of the numerous trees, or hide under an umbrella at one of the beach tavernas, have a light typical Greek meal, and enjoy the view over the sea.
Take a walk among the traditional houses with big gardens and lovely decorations, and visit the impressive wood carved icon screen of the Panaghia Kremasti church, dedicated to Virgin Mary, where the name of the village comes from.
If you planned your holiday for August, don't miss the "Panighyri", a colorful local feast celebrating the Assumption of Virgin Mary.
Also in August, you will sure love to attend the Pan-Hellenic Exhibition of Handicrafts, displaying authentic pieces of beautiful handicraft and traditional folk art from all Greece.
Pay a visit to the ruins of the romantic Venetian Castle overlooking the whole area, and be surprised to discover the charming church of Agios Nicolaos inside it.
For an excellent shopping session or even more exploring, the cosmopolitan city of Rhodes is only a short drive away.
If you are looking for an unspoiled piece of a real Rhodes village, and yet have all the modern touristy facilities at your fingertips, than Kremasti is definitely your spot for your next Rhodes Holidays !