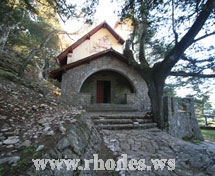 If you're holidaying with your little ones, consider the green village of Salakos as one of the best spots in Rhodes.
A place to combine the mountain with the sea, Salakos lies at the foot of Prophitis Ilias (The Mountain of Elijah) on the Northwestern coast of the island of Rhodes, about 38 km from its amazing capital, Rhodes Town.
You will find Salakos charming because of the natural springs with clear water, the main reason of the lush vegetation, the olive groves and vineyards completing the idyllic landscape.
They also create a great environment for the night – butterfly "Panaxia", the same species as this found in the Valley of the Butterflies. The village is famous for the fine walnuts and one of the healthiest climates in the whole Greece.
Bring the kids to splash in the blue waters on the Kameiros Beach, while you work on your perfect tan, or watch them from one of the tavernas along the beach, grab a refreshment and taste a Greek specialty. Don't miss an excellent fish dinner in the lovely village of Kameiros Skala.
Take your camera and walk along the narrow streets of the village, to capture charming traditional moments. A grandmother with a colorful headscarf, spreading pligouri to dry in the sunshine or preparing lamprokouloura for baking in the traditional Salakos wood-fired ovens, would definitely make your photo unforgettable.
There's a dash of history erupting from everywhere, and you will find out that Salakos has a great archeological significance, dating from antiquity, same as Ialissos , Lindos and Kameiros villages.
The religion is a constant, same as all the villages of Greece, and the monastery of Prophitis Elijah, along with the Byzantine churches of Agios Georgios and Agios Nikolaos will confirm you this.
There are many beauties longing to be discovered by you in Salakos surroundings, and to enrich your Rhodes holidays.