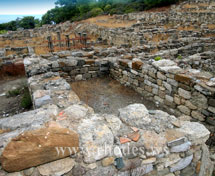 Kameiros (Kamiros) is a must-visit if you are a history and archeology passionate!

Situated 30 kilometers western from the romantic Rhodes Town, this ancient town has a great historic importance in the Dodecanese complex.
Kameiros (Kamiros) was one of the three large Doric powerful cities of Rhodes island, which in the 5th century B.C unified with Ialyssos and Lindos. to form the powerful state of Rhodos.
Exploring the Hellenistic ruins of Kameiros (Kamiros), discovered in 1929, you will find out the town is often referred to as the "Greek Pompey", as nobody knows why the city was buried and abandoned.
The ruins date back in the 3rd century B.C, and you can admire on-site only the ancient city market, a Doric temple and a few arches, because many findings are displayed at Louvre, British Museum and in the archeological museum of Rhodes Town.
The actual Monastery of Virgin Mary was built on the ruins of the 3rd century B.C. temple of Athena.
To complete this superb ancient historic dash of Greece, with an authentic Greek village, you can drive on the main road to southwest, for Scala Kamirou. The 20 km drive is beautiful, as you pass along small picturesque villages, lush forests and old monasteries.
Scala Kamirou is a small harbor, where boats leave for Halki and Nisyros islands. Your camera will simply love the green houses while your palate will be much more tempted by the cozy fish tavernas.
Although offering a nice selection of hotels and rooms to rent, Kameiros (Kamiros) is not a beach spot to enjoy relaxation under the sun of Greece, but a great prove of the Rhodes history you shouldn't miss during your Rhodes holidays in this amazing island.