Kameiros Beach Rhodes Island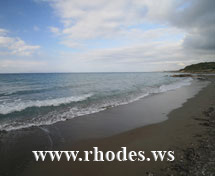 If the impressive archeological site at Kameiros (Kamiros) is a must-visit while exploring the western coast of the Rhodes Island, than Kameiros (Kamiros) beach is the sunny spot you shouldn't miss due your Rhodes Holidays next year, although there are only few tourists knowing about its existence!
Kameiros (Kamiros) beach is situated a bit more than 30 km away from the beautiful Rhodes Town, at the end of a lovely road your camera will simply fall in love with, as it's sprinkled with small villages, lush green forests and old monasteries.
You will be the lucky discoverer of a very well organized beach at Kameiros (Kamiros), inviting you for a swim in the clear blue waters glowing under the sun. Kameiros (Kamiros) is one of the few beaches in Rhodes Island blessed with fine golden sands - you will simply love the amazing feeling of the sand caressing your feet, before finding your perfect spot on this lovely beach.
If you wish to hide from the sun, but still admire the beautiful scenery, you can rent a sun bed and stay under the shade of a colorful umbrella.
Or you can head to the few inviting beach tavernas, to grab a refreshing ice-coffee and taste one of the traditional Greek dishes.
While driving to Kameiros (Kamiros) beach coming from the north of the Rhodes Island, try your hand at surfing on the breezy beach of Theologos (Tholos).
Kameiros (Kamiros) beach is one of the hidden secrets of the island of Rhodes - be among the lucky discoverers, and enjoy at maximum a relaxing day on the sandy beach!