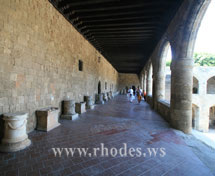 The Archaeological Museum is hosted in the building of the Hospital of the Knights, which is one of the most impressive ones that you will be able to see in the Medieval Town of Rhodes. It is a two-storey building where lots of significant items are displayed in its numerous halls and courtyard. Its building began in 1440 from the Grand Master De Lactic, who spent on it the astronomical figure of 10.000 golden florins. Its construction was competed in 1489. It operates as a museum since 1914.

Entering the Museum, you will be able to notice above its entrance a three-sided overhang, which is a part of the gothic chapel located in the grand sale of the first floor.
There is also a marble plate depicting two angels holding the escutcheon of the Grand Master. In the interior there are numerous findings, covering the period from the Mycenaean age to the first years of Christianity as well as various items typical of the artistry of the Knights.

In the courtyard there is a statue of a sitting lion holding the head of a bull, made of stone of Lardos.

In the ground floor of the building there are halls displaying items of military material from the periods of the Ottomans and the Knights, as well as other findings, while in the first floor are displayed various altars, sarcophaguses and items that were found in Ialissos, statues and staircases from Kameiros and the neighbouring islands. In the hall of the Great Aphrodite there are big-sized statues, the most significant ones among them being the statue of goddess Aphrodite and the headless statue of the Nymphe.
Even more important works of art can be seen in the other halls, such as Bathing Aphrodite, "Intoxicated Dionysus", the headless statue of Diana, tomb columns and lots of others.

In the rectangle shaped hall of the patients there are items dating back to the age of the Knights (tomb plates, escutcheons, inscriptions), while the part of the Museum hosting the monetary collection the visitors are able to see golden, silver and bronze tokens bearing the emblems of Rhodes, the Rose and Helios.

Significant findings can also be seen in the patio of the Museum, which has been decorated with a mosaic, found in Arkasa of Karpathos, while in the halls hosting collections of vessels, there are numerous chalices, hydrias, craters with beautiful images painted on them. Those were discovered in various excavated archaeological sites in Rhodes and other areas of Greece.