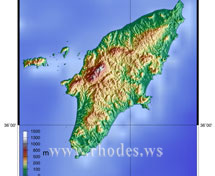 When exploring the south of Rodos island during your sunny Rhodes holidays, don't miss an afternoon visit to the picturesque Lothiarika Beach. Situated on the south-eastern coast of the island, 53 km south of the romantic Rhodes Town, Lothiarika beach will surprise you like an oasis of peace on the way between Lardos and Lindos.
Rent your comfortable sun bed, work on your tan and relax in the harmonious surrounding of Lothiarika beach - the crystal blue waters of the Aegean, the wet pebbles shimmering in the sun of Greece, and the azure of the clear sky.
Lothiarika beach is situated in one of the most famous areas in the whole Dodecanese complex for the preoccupation for the environment. Each hotel, each private villa to rent respects the architectural implications in the environment and the result is a very harmonious surrounding, in which the nature was preserved unspoiled. The Lothiarika beach offers a generous range of water sports, as well as bicycle rentals, an excellent way to preserve an unpolluted environment. More over, in the Lothiarika and Lardos areas environmental activities are organized in the high season, involving the teens, such as clean up campaigns and drawing competitions.
Pay a visit to the Lardos beach nearby, famous for its clean stretch of sand and pebbles, awarded with the European Blue Flag. Only a short drive away, you will discover the impressing Acropolis guarding the idyllic village of Lindos. In the mood for a beach party? Gennadi village, few more kilometers in the south, offers the most casual night atmosphere in the southern coast of the Rhodos Island, with live music and dancing till morning.
Don't miss Lothiarika beach, for relaxing in an unspoiled nature paradise in the south of Rodos island!