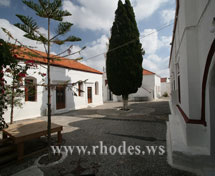 With a fairly long beach, a peaceful atmosphere, but also with the liveliest beach parties in Rhodes, Gennadi has everything "in house" for the perfect Rhodes holidays. Situated in the south of the Rhodes island, 60 km from its cosmopolite capital Rhodes Town, Gennadi is a small village where you can relax and enjoy at maximum your holiday under the sun of Greece.
Separated from the beach, the village lies along the main road, with sprinkling tasty tavernas, small Gennadi hotels, room to let and lovely villas. It is not at all difficult to find your perfect spot to work on your tan, as many areas of the sand and pebble beach are commercially organized. You can chose from a wide range of water sports. After the sun comes down, go dancing barefoot in the sand at the New Sundance beach Bar, on the great mixes of guest DJ's. This party place metamorphosed the quiet Gennadi beach in a very popular one, and many young people from all around the island attend the amazing parties. In the morning, after the party is over, grab your souvlaki, enjoy a refreshing ice-coffee and catch the glorious sunrise - a new beautiful day of your holidays in Greece is just starting!
Your holiday is mainly sun, sand and sea in this coastal village, but it's a also a special traditional Greek flavor to add - the white and blue insular houses, the traditional olive oil press, the inviting taverns where you can enjoy a light healthy Greek salad. Walk along the charming narrow alleys and steps will lead you to the two beautiful Byzantine churches of Ioannis Theologos and Anastasia, actually built with the material from the demolished tower of the Knights. Buy original souvenirs and handicrafts from the local tourist shops and mix with the friendly locals around an ouzo bottle.
If in the mood for a short trip, visit the dam of Gennadi with the small lakes in a green landscape, or take a taxi to the lovely Lindos with its beautiful Acropolis, 20km away. Maybe you want to try your hand for a windsurfing session - you have Prassonissi only15km in the south edge of the island.
Pack your bathing suit and your dancing shoes - it's all you need for your perfect holiday, Gennadi will handle all the rest!