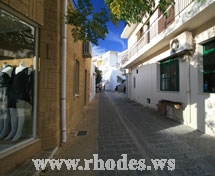 The traditional coastal village of Kalithies is the place to discover a big slice of Greece history in the island of Rhodes. Situated on the eastern side of the island, 13 km from Rhodes city and only 2 km away from the crazy Faliraki, this charming village nestles lovely monasteries (agias) and a cave proving the first traces of humans and their evolution in Rhodes.
Along with Koskinou and Psinthos villages, Kalithies form the Municipality of Kallithea.
Walking along the narrow alleys and numerous monuments, you will be surprised to find out they are actually dating from the 13th century, when the village was referred to as "Calathies", because of the ""kolytea" plant flourishing all around this charming village.
Prepare your camera as there is plenty to strike in Kalithies: the church of the "Metamorphosis of the Savior", with an iconostasis from the 16th century, the Eleousa Monastery, with its two blazons from the time of the Knights and spectacular murals waiting for you to discover them on the west side of the village.
Step along the tiny quiet streets and they will lead you to the Church of the Honorable Cross, surrounded by old charm coffee shops – grab an ice-coffee, enjoy the beautiful panoramic view towards the village, and relax a bit, because there's even more to discover.
Very close to Kalithies you be the silent witness of the amazing stalactite cave of Kalamonia, which hided the oldest known Neolithic human remains (5000-3700 BC).
Make sure you do not miss the imposing Acropolis of Sarantapihos and Erimokastro (with big wall built in a high spot, from which no building have been preserved; actually the name means "deserted castle" in Greek).
The locals of Kalithies will make you feel like home, as they will welcome you with smiling faces and you'll be surprised to find out most of them speaking English and German.
If you planned your holiday for September, there is the colorful festival of the Honorable Cross, one of the most spectacular in the island of Rhodes, inviting you to attend and mix with the locals.
If you are looking for some fun out of the quiet Kalithies, you have Faliraki with its beautiful beach and watersports, its booming nightlife and good shopping only a short taxi ride away.
Or maybe you wanna try your hand for golf in the 18 hole course of Afandou village?
Think of a small, charming spot, with an amazing dash of history and with an explosion of life and fun nearby, and you will realize Kalithies is the perfect choice for your Rhodes holidays!