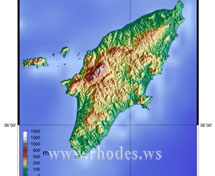 Are you looking for a pampering holiday, with plenty of relaxation and all the best facilities at your fingertips?
Kalithea is definitely your spot! Developed around a natural Spa, with great quality hotels along the shoreline, a huge dash of history just around the corner in Kalithies, the romantic Rhodes Town in the North and the booming nightlife of Faliraki a short taxi ride away, Kallithea has everything you need for perfect Rhodes holidays.
Check-in your beach hotel, enjoy the blissful sea view from your room window, then get into the leisurely tempo of the Rhodes holidays grabbing a cocktail in one of the many bars along the beach, or next to your hotel pool, as there are plenty of things waiting for you in Kallithea.
Enjoy the relaxing hours and work on your tan on the private sand and shingle beach, with a wide range of water sports to try your hand on. Enjoy the hotel swimming pool, go for a sauna or a lovely massage to ease you into the evening - just take your time, and learn how to completely relax. You will love to learn the bay of Kallithea is famous for its healing baths, built in 1930, during the period of the Italian rule, so there is even more for you to pamper yourself.
Put a comfortable pair of sandals and go exploring a bit the area - you will feel like an archeologist discovering the ancient acropolis of Sarantapihos, and many monuments dating back to the Byzantine era, especially churches with lovely wall paintings. Only 2 km away, near the charming Kalithies village there is the amazing cave of Agios Georgios, with proofs of the human existence from the Neolithic.
Only a short taxi drive away there is the cosmopolitan Rhodes town, for a non-stop shopping session in the Turkish Quarter, and a traditional Greek meal at a taverna in the charming Old Town,
Much more than sun, sea and complete facilities, Kallithea has the ability to provide everything you need to make your holiday in Greece just perfect.
Seach for a Hotel in Kalithea, and be sure to pick "Kallithea (city)" and not "Kallithéa (city)".