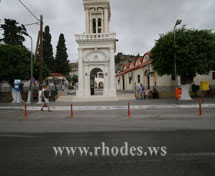 AFANDOU - ISLAND RHODES
One of the largest and oldest villages of the island, Afandou is a very lively Greek holiday settlement 19 km from the Rhodes Town and only 5 km away from the crazy Faliraki village.
The name comes from the word "afando" ("hidden" in Greek), reminding of the old pirates times, when the village was built in such a way not to be seen from the sea.
The main highlight of Afandou is the amazing 18 hole golf course with the famous Donald Harradine signature.
Pick the local funny little train that will take you from the main square, where all the action is taking place, among the lovely olive-trees, to the real huge 4 km beach along the clear blue waters, going all the way to Kolimbia.
There is a wide range of water sports to have a nice time on the beach, from windsurfing to sea pedals.
On the far left side of Afandou beach, you can try your sense of adrenaline, as sprinkled rocks and caves are all over where the shore ends.
You will be charmed by the colorful center of Afandou, as it is full of life - lots of coffee shops and bars, very hospitable locals carrying a very characteristic accent, all-the-colors fresh fruits, stores of any kind, and a folklore exhibition showing the famous carpets of the village are waiting for you to discover them. You can find these traditional Afandou carpets also in workshops in the surrounding area, as they are very well known and considered of very high quality.
Once in the main square of Afandou, why not paying a visit to the Church of Our Lady?
The 17th Century wall paintings will amaze you and if you are here in August, you can even attend the big festival celebrating this beautiful church.
You have everything you need for a perfect time in the authentic Greek holiday settlement of Afandou!
Isn't it about time you visit it at your next Rhodes Holidays ?
You can swim and sunbathe in the village's exquisite beach. It's very extended with a length of 4 kilometers, going all the way to Kolimbia beach and it's characterized by its clear blue waters and little pebbles.
The beach is organized and gives you the opportunity to rent umbrellas, sun beds or even equipment for various sea sports such as surfing and sea bikes.
The sights of the area include the church of Virgin Mary the Catholic with magnificent wall paintings and its display of various objects used in churches which is located next to the temple.
Check availability of the Afandou Hotels by entering your potential Check-in and Check-out dates, into the box in the left upper corner of this page.