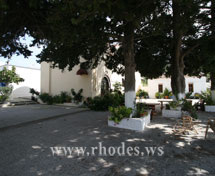 When looking for a small oasis of Greek traditions in fantastic surroundings, than definitely you have to find your path to the village of Istrios. Situated on the South of the island of Rhodes, 85 km from Rhodes Town, this authentic Greek settlement will bring you more closely to the nature and traditions then you've ever been.

Istrios is located in a paradise of olive groves, vines and pinewoods, in the area of Apolakkia Dam, and only few kilometers away from the farming village of Profilia. This area is actually a shelter of wild life, protected by "Natura 2000", a European Network. The nature was extremely generous with Istrios surroundings, making it one of the most spectacular places in the whole Dodecanese complex. The pebbled paths will bring you the beautiful waterfalls of Kipolistis, through a pine trees forest, where fauna and flora are completely unspoiled.
In this charming peace of heaven, you will love discovering that people still fallow their old traditions and customs with respect and affection. Walk along the tiny streets of Istros, among their tiny but cozy houses, with wall-plates and fine needlework decorations, and steps will bring you to the Saint Merkourios church, where people pays their respect to the patron of their village, with continuous faith, every Sunday.
If your Rhodes holidays are scheduled in August, don't miss Istrios famous festival celebrating Saint Merkourios, when, after the church procession, the locals gather in the central square, with violins and lyres traditional music, and of course, displaying Greek specialties in abundance, to tempt the visitors palates.

If you feel like exploring even more in the South of Rhodes, only a short taxi ride away, you will reach the most southern village of the island, Katavia, try your hand at windsurf at Prassonisi, 5 km away, or attend one of the liveliest beach parties taking place where else than Gennadi.
Away from any hustle and bustle, in the middle of the virgin nature, with the friendly and simple locals of the traditional Rhodes Island, the village of Istrios is the place where to feel more close to origins and more relaxed than ever.