Tsambika Beach Rhodes Island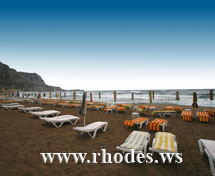 Tsambika beach is an excellent choice when you wish to spend a fun day with your family under the sun.
Located only 26 kilometers from the cosmopolite Rhodes Town, on the eastern coast of the Rhodes Island, together with the nearby Stegna beach, Tsampika offers you a perfect environment for you to enjoy a lovely day at the beach, with the kids playing safely, surrounded by amazing nature sceneries.
On Tsambika beach you feel spoilt with the delightful sensation of feeling the fine golden sand caressing your feet.
Rent a sun bed and a colorful umbrella - sun lotion on, and you're just ready for a relaxing tanning session.
Dizzy from the sun?
Put on a sun hat to protect from the heat, and try your hand at the water sports!
And that's not all!
Lovely beach tavernas invite you from the shoreline for a refreshing drink and a Greek specialty, while your kids are safely splashing in clear blue waters.
An excellent opportunity to admire the breath taking panorama of the Monastery of Panaghia Tsambika, guarding from centuries the Tsampika beach and the whole coast ahead from its imposing cliffside.
You will be even more impressed to find out the local belief saying that the Virgin Mary of Tsampika protects the women wishing to have a baby.
If you need to buy little things for you or the little ones, there is a mini market very well organized just next to the bus stop for Tsambika beach.
The beach surroundings give you even more opportunities to spend your time in a beautiful way. If you're a golf passionate, or simply wish to be initiated in this sport secrets, the very close village of Afandou offers you an excellent 18 holes course at its Golf Center.
Just a short drive in the south you will discover the amazing Lindos village, with its impressing Acropolis and its three beaches complex!
Ready for a crazy night out? Take a taxi or a bus and head to the northern Faliraki village - the liveliest spot in Rhodes island.
Whenever in search at your Rhodes Holidays for a lovely spot to spend a nice day under the sun of Greece surrounded by amazing sceneries, the well-organized Tsambika beach is waiting for you!