Stegna Beach Rhodes Island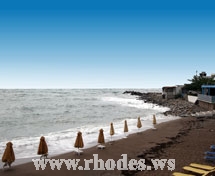 Stegna Beach is a lovely small resort laying on the eastern coast of the Rhodes Island, 30 km away from its romantic capital, the Rhodes Town.
You will be simply charmed by this authentic piece of Greece - the beautiful sand and pebbled beach, the picturesque tavernas along the shoreline, and the tiny harbor with colorful boats.
Stegna beach lays at the end of a lovely country road, with picturesque herds of sheep, among almond and olive groves, and is a recommended place to bring the little ones.
You will find a lovely atmosphere on this well organized beach, guarded by the beautiful mountains.
You can work on your tan relaxing on your sun bed in the wonderful Jasmine scented air, while your kids splash in the clean blue waters.
You can find accommodation at the few inviting traditional apartments and studios to rent in the picturesque Stegna village, and the nearby village of Archangelos.
If you want to try your hand on water sports, Stegna beach invites you with paragliding, banana boat ride and even water ski.
When in need of a sun break, there's nothing more delightful than grabbing a refreshing ice-coffee at one of the cozy bars, while watching your little ones playing safe on the Stegna shore.
Or, why not take a delightful walk along the shoreline - the kids will sure enjoy the colorful scenery of the little boats anchored in the tiny harbor at the end of Stegna Beach.
Don't miss a mouth watering lunch at one of the beach tavernas, with menus ranging from traditional Greek dishes, to grilled fish, seasoned stakes, baguettes and even pizzas.
If your little ones need something in particular, you will find very easy two supermarkets at the beginning of the Stegna beach.
If you wish to explore a bit the surroundings, a short taxi drive away will show you the amazing Acropolis in Lindos village.
The Lindos beaches are also recommended to bring the kids, as there are many areas frequented by families.
Just nearby Stegna is the lovely village of Archangelos, where you can admire and even participate at the authentic traditions of Greece.
Book you next Rhodes family holidays and don't miss the cozy Stegna beach, offering you relaxing moments, a picturesque scenery and the friendly authentic atmosphere of Greece!