ARCHANGELOS Rhodes Island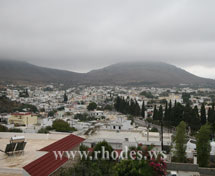 he picturesque village of Archangelos lies on the eastern coast of the island, south of the City of Rhodes.
You will be charmed from the moment you leave your car and get into the distinctive atmosphere of the cozy narrow streets, of the small and colorful old houses and squares.
When you will get to meet the inhabitants of Archangelos, always so kind and friendly, still using their local special idiom - this is when the charm of this village will steal your heart forever.
You will be delighted to discover that in Archangelos people are still faithful to their local traditions - you can taste the local bread still baked in the wood fired ovens in the middle of the house yards, and hopefully you will get lucky to assist a local wedding ceremony, still held according to the traditional way.
Sure, you will want to buy a unique souvenir, as the traditional carpet-making and pottery art are still practiced here in Archangelos.
Do not miss the imposing church of the Archangel Michael dominating the Archangelos village with its exquisite bell tower dating back to the 15th century. All around the beautiful church, the houses grab your eye with their arches and walls decorated with ceramic plates from the nearby village of Lindos.
Relax at your next Rhodes Holidays with a coffee or enjoy a typical Greek lunch facing the beautiful church square at one of the many coffee shops and tavernas of Archangelos.
Everything is just idyllic about Archangelos area
• the nearby Strongylos Mountain,
• nestling small wild horses,
• the cave of Koumellos, on the road to Archangelos beach, with its famous stalactites and the recent discovery of objects from the Neolithic and the Mycenaean age.
There is a local legend saying this cave communicates with the sea - this cave is definitely a bottom line in Archangelos area.
There is also a dash of history around this village - take a van for a 15 min road to the Byzantine Castle repaired during the Knights' rule and to the famous monastery of Virgin Mary of Tsambika.
Just 500 meters along the lovely winding road from Archangelos, passing sheep, lemon and almond groves, lies the small Stegna beach, dominated by mountains. With many beach tavernas and a tiny harbor, Stegna has an authentic relaxing Greek atmosphere during the day, which gets very exciting at night - there is a very popular taverna often hosting beach parties.