Monolithos Beach Rhodes Island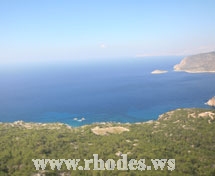 When driving along the southwestern coast of Rhodes Island, Monolithos beach surprises you just like an oasis of peaceful and superb nature.
Lying 73 km away from the cosmopolite Rhodes Town in the North of the island, Monolithos beach offers you the privacy you are longing for, along with the amazing view of the Venetian Castle guarding the beach from the hilltop side.
A perfect place at your Rhodes Holidays to be yourself and feel the connection with the nature, Monolithos beach is one of the most private in the whole Rhodes Island, being especially preferred by the nude bathers.
Monolithos beach is the same one starting from Perissa at the South and ending to Monolithos.
Everything on Monolithos beach looks like the time stopped - you can admire in peace the perfect harmony of the nature - the amazing infinity of the blue waters, the golden-brown of the sand, the dazzling shapes of the surrounding cliffs, the shimmering small pebbles wetted by the sea.
Monolithos beach is the best choice for a free swimming, as the waters here are clear and deep. There is nothing reminding of the hustle and bustle of the Rodos city or of the lively Faliraki village, the highlights of the Rhodes Island.
There are only few cozy tavernas along the Monolithos beach, offering short snacks, and simply finding their perfect place in the peaceful scenery.
When in need of a bit of adrenaline, drive even more southern to "the edge" of the Rhodes Island - the beach of Prasonissi, where you will get to know the surfers' paradise. At the opposite western point is the Lindos beaches complex, if in need of social vibe.
Monolithos beach is the perfect spot to spend a peaceful time in the middle of the unspoiled surroundings - it's only you and a beautiful piece of Greece's nature!