Kallithea Beach Rhodes Island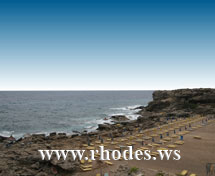 If you want to mingle with the elite local society, take a day break for working your tan on the glamour beach of Kallithea.
This beach lays on the northeastern coast of the Rhodes Island, only 10 km away from its cosmopolite capital, the Rhodes Town.
Kalithea beach is best preferred by the Rhodes Island locals, and "let's take a swim to Kallithea" is a sentence you'll hear very often when visiting Rhodos.
The magnificent Italian baths ennoble Kallithea beach, while the exotic surrounding nature, with strange shaped rocks and pine trees, completes the pleasant scenery.
The deep blue waters promises excellent scuba diving sessions - a good opportunity for you to start exploring the fantastic underwater universe.
Most of the travelers prefer to make scuba diving on Kallithea beach rather than on more popular, other beaches, because it offers enough privacy to fully enjoy your experience.
You can rent the equipment on the beach, or, if you're an excellent swimmer, you can just dive from the surrounding rocks.
If not attracted by the water sports, you can rent a sun bed and simply relax under the sun of Greece, breathing the refreshing pine-tree scented air.
When dizzy from the sun, sip a cocktail or try a light Greek specialty on the cozy restaurant right on the beach.
Don't confuse the glamour Kallithea beach with the tiny bay south to the Italian baths. Little boats cast anchor every day in this picturesque bay, bringing visitors from Rhodes and Faliraki, in a short visit to the magnificent colorful mosaics of the baths.
For a bit more privacy, drive southern to the nudist area, near the Kathara beach, and very close to the romantic Anthony Quinn beach.
If you're staying in the area, don't miss a night out in the most lively village of the Rhodes Island - Faliraki.
If a golf passionate, the Afandou Golf Center, with a 18 holes course is just a short southern drive away.
Kallithea beach offers you the great opportunity at your Rhodes Holidays to feel like a real Rhodian local, in the middle of beautiful sceneries, a lovely piece of the Rhodes Island!