Gennadi Beach Rhodes Island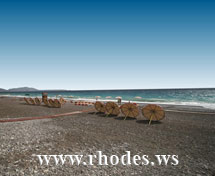 The best spot for a beach party with dancing till morning, Gennadi beach is the last organized spot before the island of Rhodes reaches its southern point at the Prasonissi beach.
Laying 63 km from the cosmopolite Rhodes Town in the north, Gennadi beach is an excellent mixture of great facilities and unspoiled nature, attracting especially young people.
Still, only some parts of Gennadi beach are organized, with hotels along the shoreline, sun beds and colorful umbrellas to rent, for you to safely work on your tan and relax with the waves sound in your years.
You can even try your hand at the nice selection of water sports at your next Rhodes Holidays !
But if you are simply looking for your private spot on the sand and pebbles beach to take a nap and fill with energy for a new beach party until morning, Gennadi beach surprises you with unspoiled areas, where nature draw amazing sceneries only with few pebbles, a bit of sand and the infinity of the blue sea.
Lots of cozy beach bars and lovely tavernas invite you to sip a refreshing ice-coffee or even taste a delicious Greek specialty while you delight your eyes with the beautiful sea scenery.
They offer an excellent spot from where to watch one of the glorious Rodos sunrises and catch amazing photos with your holiday camera.
In the mood for a bit of exploring?
Only a short drive away to the north is the from Gennadi beach village with its original mixture of cosmopolite resort atmosphere and unspoiled Greek traditions.
The south is even more promising for youth, as they're heading by instinct to Prasonissos beach - the paradise of the surfers.
For unique beach parties and unspoiled nature spots, Gennadi is one of the must-visit beaches whenever you're heading to the southern coast of the Rhodes Island Greece!