Fourni Beach Rhodes Island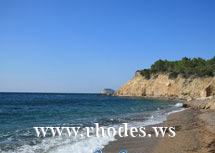 Looking for a quiet place in the savage nature to enjoy a refreshing afternoon swim or a peaceful day under the sun of Greece at your next Rhodes Holidays ? The picturesque Fourni beach is definitely your spot! The beach lies bellow the village of Monolithos, on the southwestern coast of the Rodos Island, 78 km from its capital, Rhodes Town.
The pebbled Fourni Beach is not organized, so forget about renting umbrellas or sun beds, and enjoy at maximum the unspoiled nature. To find your perfect spot on the beach, under the shade of the rocks, come early and explore the right side of Fourni. The left area of the Fourni beach is actually the most picturesque one, as the savage landscape is completed by the pine trees, spectacular rocks you can swim from, and of course, the splendid waves of the Dodecanese waters. You will not find but very few people in this beach area, with big pebbles and wild coves and bays. Fourni is the place to challenge your swim skills, being well known the fact that Rhodes Island western coast has the roughest seas.
Explore even more of the unspoiled nature and beaches on the western Rhodos coast, by following the road to Monolithos beach at Cap Fourni, with the boat-shaped rock rising above the waves, and the more southern Kattavia. For even more adventure, you can try your hand at surfing, in the paradise of the surfers – Prasonissi beach.
Don't miss the Fourni beach during your western Rhodos island coast incursion, for a glorious afternoon in the middle of the unspoiled sea-side landscape.