Afandou Beach Rhodes Island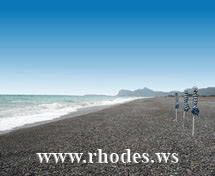 The beach of Afandou is the perfect spot to spend a funny day under the sun of Greece with your family, as it is well know as one of the most beautiful beaches for families with kids. The beach lies on the eastern coast of the Rhodes Island, 8 km southern to the Rhodes Town, and 2 km away from the village of Afandou, is easy to reach by public buses, or by car and motorbikes.
The general atmosphere is lively and funny; lots of kids playing in the sand while the clear blue waters are sprinkled with white jet skis. The 3 km long sand and pebbles beach has areas to satisfy all needs: calm spots where families go with their kids, remote places for the young couples and a scenic landscape with caves and rocks, if you wish to try your hand for a challenging swim in the deep blue waters. Being that long, Afandou beach never gets too crowded, and it is quite easy to find your perfect spot. You can rent umbrellas and sun beds, or bring the kids to splash in the beach hotels' pool, while you relax with a cocktail
When tired of the sea (is this possible?), you can relax at one of the inviting beach tavernas, preferred even by the locals for the excellent fresh fish cooked in the traditional Greek way.
If you want to try your hand at golf, the Afandou Golf Center is only 200 m away from the beach, walking along the coastal road.
If you wish to explore even more on the eastern coast of the island of Rhodes, the Traganou beach is just nearby, and about 6 km from Afandou is the livelier Faliraki beach.
Afandou Beach is the best place to consider for a great day with your family, for an amazing swim at deep water in spectacular landscape. Don't miss it while you're in your Rhodes Holidays !