Faliraki Beach Rhodes Island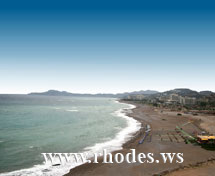 There is simply no need for an introduction when it comes about the Faliraki beach!
Wild, cosmopolite, hugely famous, when it comes about popularity in the whole Rhodes Island, Faliraki beach competes only with Elli beach of Rhodes Town, only 12 km away.
Faliraki beach has it all - the thrilling social vibe, the golden sands, hundreds of sun beds and colorful umbrellas, lovely beach tavernas, restaurants, snack bars and, well... even bungee jumping!
What can you more dream of?
Ok, it has that too - the only organized nudist beach in the whole island of Rhodes.
The Faliraki beach is definitely one of the best in Rhodes. It lays on four glorious kilometers of sandy shoreline, along the amazing blue waters.
The water sport offer is very generous - there's everything here on Faliraki beach, from windsurfing to scuba diving. Looking for even more fun? Head to one of the world's largest water parks, hosted by Faliraki village.
Faliraki beach is the spot to start a new lovely day of your holiday in Rhodes - after a booming night party with dancing till morning, head on with your friends to one of the cozy beach tavernas, grab a souvlaki, pay your respects to one of the famous Rhodes sunrises and wish your Rhodes holidays never stops!
If after a wild night you wish for a quiet spot to regain your energy for the next night out, the charming Anthony Quinn beach is waiting for just nearby.
Wishing to make a bit of sightseeing?
Why not drive southern to discover the amazing Acropolis in Lindos village? Your camera will just love it!
Faliraki beach is a must-visit while exploring the eastern coast of the Rhodes Island!