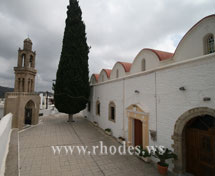 Well hidden among pine woods and perennial olive groves, the picturesque village of Vati lays on the Southeastern coast of the island of Rhodes, 71 km away from its romantic capital - Rhodes Town, on the direction towards Gennadi and Apolakkia. The name Vati actually means "crossing points" or "path".
You will discover that life in Vati looks like time never passed over Greece.
The village square nestles a small cafeteria, where every day locals put the world to rights, while drinking their traditional Greek coffee, of course, when they are not too busy playing cards. In the small village of Vati, like in other small villages of Rhodos Island, this Kafenion plays also the role of the mini market and post office.
You can always mingle with the local people, as they are famous for being friendly, and your camera can capture real moments of their simple life.
In the central square guards Saint Ioannis the Theologian, the main church of the village.
People are very religious in Vati, so you can admire even more traces of their religious tradition: The Monastery of Saint George, from the 14th century, the tabernacle of Virgin Mary Galatousa, from the 19th century, the monastery of Saint Rafael and the post Byzantine monastery of the Archangel Michael Paralimioti.
Traditions and religion are very important in this village, like everywhere in Greece, and if you pay a visit to Vati at the end of summer, you can even attend the biggest celebrations of the village locals - Virgin Mary "Galatousa" on August 15th and Archangel Michael "Paralimiotis" in the beginning of September.
If you are in the mood for a bit of exploring at your Rhodes Holidays, you will love to search for the Italian army camps hidden in the surrounding forests. A hike to the guardhouse at Saint John will delight you with a great view over the south of Rhodos Island, while just a short drive away is the beautiful medieval castle of Asklipios.
Step back in the real world and don't miss the lively beach parties till morning in Gennadi.
A small village, but a big piece of tradition and religion in the island of Rhodes, Vati sure worth visiting, to explore an authentic spot of Greece set in amazing surroundings.