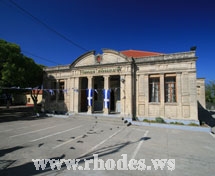 Four reasons put Paradissi on the spot when choosing where to spend your holiday in the Dodecanese complex: first inhabited when the Knights' ruled the island of Rhodes, a very well-organized beach, excellent location only 16 km away from the cosmopolite Rhodes Town, and what makes Paradissi famous is actually the vicinity with Diagoras, the International Airport of Rhodes.
Even the village's name is charming (paradise), deriving from the superb heavenly gardens with exotic flowers brought by Arabs.
Also referred to as Villanova during the Italian occupation, nowadays, the name Paradissi suggests the beauty of the surrounding area.
The Airport is the Rhodos gateway to Europe; also, the main tour operators' charters land on Diagoras, and so do the flights from Athens, Iraklio, Mikonos and Thessaloniki.
The airport proximity and the well-organized sand and pebbled beach turned the charming village of Paradisi into a modern resort, offering excellent facilities for your holiday to be just perfect.
The Paradissi beach is part of the 10-kilometers strip starting in North at Kremasti and continuing along the western Rhodes coast up to Theologos. Take your relaxation portion, swim in the crystal clear blue sea, or try your hand at the water sports. Sip an ice-coffee or enjoy a Greek specialty at one of the inviting tavernas along the beach - Paradisi offers it all.
Although their little village turned into a modern resort, the locals kept their traditional openhearted character, and they will always welcome you with friendly smiling faces.
There are still some traditional Dodecanese houses in Paradisi, and your camera will sure not miss the old building of the High school, emblematic to this village.
If you planned your holiday for July, you have the opportunity to notice how Paradisi locals enjoy showing their traditions to the visitors, while attending the colorful panighyri (feast) when both visitors and locals gather to celebrate Aghia (St.) Marina.
For a dash of history, put on your most comfortable sandals and pay a visit to the romantic Old Town of Rhodes.
Enjoy a great shopping session in the Turkish Quarter, and relax with a drink and a tasty Greek salad at one of the inviting tavernas at the Rhodes harbour.
If you are looking for relaxation, lots of facilities at your fingertips, and the proximity of excellent spots to visit, than definitely choose Paradisi as your next Rhodes holidays destination!