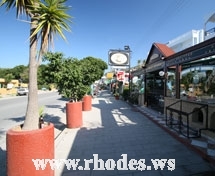 When you pack for your Rhodes holidays in Ixia, think comfortable, modern and peaceful, because you are going to a cosmopolitan resort, often characterized as one of the most beautiful places of the island and even in Greece.
Ixia lies in the southwestern coast of the island, between Ialissos and the romantic city of Rhodes, 6 km away.
You will find the perfect relaxation here, on the superb Ixia beach with clear and amazingly blue waters, surrounded by the green calm hills.
Ixia bay has a privileged geographical position, with constant winds, which makes it a perfect spot for the windsurfers. Sure, there are more water sports options, and you can even try your hand on scuba diving.
Be aware that the 2 km long, pebble beach is unsuitable for the little ones, but you can always take them to the hotel swimming pools, while you enjoy a cocktail facing one of the famous Ixia sunsets.
Following a booming touristy development, the resort offers you the choice of different kind of places to accommodate - from the luxurious Ixia hotels along the coastline to smaller and comfortable rooms to let.
When it comes about dining out, there are over 25 restaurants tempting you in Ixia and several bars to enjoy a local liqueur.



For a dash of activity, visit the local tourist shops, but keep in mind that 5km away from Ixia you can enjoy exploring the Old Town and have a lovely shopping session in the Turkish Quarter in Rhodes Town.
If you are ready for a night out, only a short taxi-ride away the crazy Faliraki is appealing you with its booming nightlife, and you also have the neighboring Trianda, a hit for the bar-hoppers.
When it comes about facilities, relaxation and fun, everything is at your fingertips during your holidays in Ixia.
Are you looking for a Hotel in Ixia - Rhodes ? Click "Book now" to get the list of Hotels available