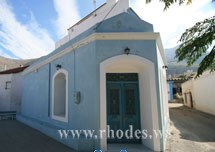 Embonas is the highest village of Rhodes Island, situated at over 800 metres altitude, south of the Rhodes Town.
Up there, in the mountain of Attaviros, the village was kept completely unspoiled, like a cocoon - the inhabitants still wear local costumes, traditions are kept with conviction and, like every piece of heaven, Embonas is also blessed with one of the best wines on earth.
The village attracts especially during the wine festivals in August, when, besides the various artistic manifestations, you have the unique occasion to taste the "matsokofti", a must-jelly, and to shop in the colorful bazaar of local traditional products. Don't miss the "Emery", which is a very popular winery in Rhodes - have a tour and taste various "Dionysos nectars", from the dry and "spumante" wines, to liquors and even the local ouzo.
You will be especially amazed by the colorful traditions of Embonas - illustrating their life in this village over the centuries, people are famous all over the island for their feasts, songs and dances. A special tradition is represented by the meticulous multi-coloured embroideries, enlivening every old house.
Make sure you visit "Pano Horio" - the old part of the village of Embonas, which actually means "upper village". The atmosphere here is charming and seems time stopped forever - as you walk up to the tiny quiet streets, among the small white houses in the summer sun, you'll suddenly see the imposing church dedicated to the Assumption of Virgin Mary with its very nice wood-carved icon. For even more discovery, at the exit from Embonas take the path leading to the top of Attaviros, and feel the special dash of the legends on the Temple of Attaviros Zeus, whose ruins last at more than 1200 m altitude. Your efforts will be compensated by the amazing view over the whole Dodecanese complex and even Crete.
And yet there's more to see! Very close to Embonas you can visit the Natural Cypress-tree Wood, a Natural Monument, as the wood extent is more than 1,35 km², while 7 km south from the village you will discover the Holy Monastery of Artamitis, with a nice icon screen.
Only a short taxi ride away you will find the picturesque Archangelos village where you can admire and even bargain for traditional pottery and handmade carpets.
Although at high altitude, the village of Embonas is easy to reach, by public bus, as well as by car or motorbike. At your next Rhodes holidays come and visit the village.