Tasos Beach Rhodes Island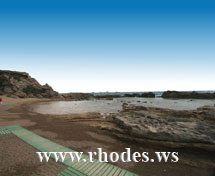 Along with its neighboring "sister beaches" - Nikolas and Oasis, Tasos beach is a beautiful spot where to retreat after a long wild night in the lively Faliraki, to fully regain your energy, of course, for another long night going ahead!
Tasos beach lays about 10 km away from the cosmopolite Rhodes Town, on the northwestern coast of the Rhodes Island.
Only 4 km away from the hugely popular Faliraki village , Tasos beach offers a lovely alternative to the strong social vibe of this lively Rhodes Holidays spot - a picturesque scenery, of sand and pebbled beach, harmoniously caressed by the crystal clear waters and guarded by strangely shaped rocks.
Rent a sun bed and an umbrella and simply abandon yourself in the amazing nature's hands on Tasos beach - they will simply make you reborn.
Forget about anything and go for a long swim in the blue waters, followed by a complete relaxation laying on the beach - the sun will dry your skin and will give you energy.
If thirsty or longing for a refreshing ice-coffee, there is a small cafeteria right on the Tasos beach.
Pay a visit to the Kallithea beach just nearby, and breath deeply the pine-tree scented air, for an exotic touch to you lovely afternoon!
After Tasos beach fully recovered your energy, you're just ready to start another wild night in Faliraki! Have fun!