Ialyssos Beach Rhodes Island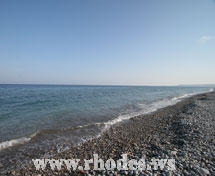 "The capital city of windurfing", the Ialissos beach is a highly organized spot on the Northwestern coast of the Rhodes Island, only 8 km from the cosmopolite Rhodes Town, and nearby the beach of Ixia.
Along Ialissos shoreline, there are areas of public beach and also private spots belonging to the hotels, same as in Ixia beach nearby. A perfect place for family days under the sun of Greece, the sand and pebbles Ialyssos beach offers excellent facilities – wide range of water sports, gardens and tennis courts, tempting beach tavernas, coffee shops and restaurants. You can rent sun beds and colorful umbrellas everywhere, and while you're working on your tan on Ialissos beach, you can admire the nice view over the opposite coast of Asia Minor. If worried about the sea, the little ones can perfectly enjoy a pool splash at your beach hotel, while you keep an eye on them, sipping your cocktail at the terrace nearby. Ialyssos is definitely an ideal place if you love swimming, as the blue waters are crystal clear, a common characteristic of northwestern Rhodos beaches. In the area blows a great wind for surfing, you can find equipment to hire on the beach, and several local, Panhellenic and European Champions of windsurfing are organized here every year. Moreover, in 2007 the World Champion of Windsurfing has been organized in Greece, on Ialyssos beach.
With its excellent facilities and the proximity to the city of Rhodes, Ialyssos beach is a place your shouldn't miss pointing on your next Rhodes holidays map.