Charaki Beach Rhodes Island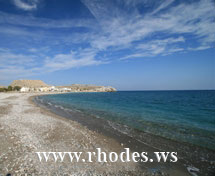 Do you wish to avoid the noisy popular resort of Island Rhodes, but yet not to feel isolated? Head to Charaki on the Rhodes Island, the lovely beach of a cozy fishermen village set in a picturesque bay, 36 kilometers away from Rhodes Town on the eastern coast of the island.
Charaki (Haraki) is a lovely surprise for everyone discovering this lovely settlement - a very relaxing and quiet atmosphere, crystal clear waters excellent for snorkeling, tiny fishing boats aligned in the small harbor, mouth watering fresh fish specialties and, above all, the imposing castle of Feraklos - formerly used by the pirates, became the first fortress of Rhodes conquered by the Knights of St. John.
Charaki (Haraki) beach will offer you a family environment, ideal if you're traveling with the little ones. They will simply love to collect the shells hidden among the pebbles wetted by the sea, shimmering in the sun, on the right side of the shoreline. Charaki (Haraki) beach offers sun beds and colorful umbrellas to rent, for you to work on your tan in perfect relaxation, with the kids playing safely next to you.
This idyllic Rhodos spot is the preferred beach by the locals too - Charaki (Haraki) beach offers a no-charge section where they come and install their own umbrellas. Take a lovely walk at the sunset along the left-side shoreline, to admire the beautiful view of the Feraklos castle, and to feel the fine sand under your feet. Choose one of the inviting tavernas along the Charaki (Haraki) beach, to indulge your senses with delicious fish dishes cooked in the traditional Greek style.
When you feel like exploring a bit the surroundings, the Archangelos village, only 8 km away, will show a real piece of the traditional Greece life. The pine-tree scented air of the exotic Pefki village will refresh you after a short southern drive.
Charaki beach on the Rhodes island will give you the family atmosphere you were longing for, along with an idyllic landscape and lovely food - isn't it just a perfect spot to visit at your next Rhodes Holidays ?