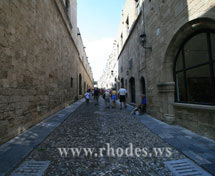 From Alexander the Great Square, just before Museum Square and in from the Church of the Virgin Mary of the Castle begins the Street of the Knights. This is the best-preserved thoroughfare from the period of the Knights and leads uphill to the Grand Master's Palace (the Castello). It is a cobbled street, lined on both sides with the Inns (headquarters) of the various Tongues (nationalities) of the Order.

In the first years of Turkish rule the many buildings on the Street of the Knights were used as barracks and some changes and extensions were made, which were later restored buy the Italians.

Walking up, you pass the north aspect of the museum (left), and the Inns of the Tongues of Italy and France with its little chapel and gothic statue of the Virgin Mary holding the infant Christ. Beyond the arch are the Inns of the Tongues of Province (right) and Spain (left). The Street of the Knights ends under a large gothic arcade with peristyle, having passed two further Inns.