PALACE OF THE GRAND MASTER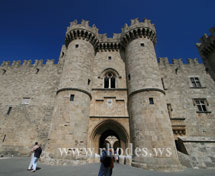 PALACE OF THE GRAND MASTER
You can visit the Palace of The Grand Master at the end of the Street of the Knights. It is a large rectangle-shaped building, of a length of 80 meters with a big patio and was built during the period of the Knights' rule, where formerly (7th century) the mansion of the Byzantine governors used to stand. In addition, it has been said that under the foundations of the Palace there are the ruins of the ancient temple devoted to god Helios. In succession, the building operated as a prison, during the years of the Turkish rule, only to re-operate as an administration centre, this time from governor of the Dodecanese Del Vecchi, in 1940. Del Vecchi made lots of interventions on the building in order to reinstate it, as a big part of it had been destroyed from the fire that broke out in 1856, in the neighbouring church of Agios Ioannis. The fire was initiated when a lightning bolt sparked off a big quantity of gunpowder that the Turks used to keep in the church's basement. After the fire had been put off, the only parts of the palace saved in a good condition were its two circular towers and its gate with the pointy arch. The Italians however, led by architect Vittorio Mesturino, searched and found the initial designs of the palace and reinstated it, maintaining the typical trademarks of the building.

On the ground floor the halls are decorated with wall paintings of artist Venlia. There is also the stone-paved patio, with its numerous arcades, where statues dating back to the roman and Hellenistic period as well as the chapel of the Annunciation can be seen. If you follow the wide staircase located in the patio you will get to the first floor where the most impressive halls of the building can be found, filled with richness and luxury. All of them are impressively decorated with statues, carvings, colourful marbles, oriental vases, luxurious furniture of European style, carpeted mosaic floors and magnificent paintings.

Before you set out to visit the Palace of the Grand Master, assure that you have enough time at your disposition, since the building consists of 80 halls. The most impressive of all is probably the Grand Salle of the Council, but all of them have something remarkable on display.