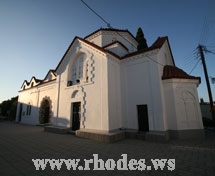 Everything about Pastida is traditional, idyllic and typical Greek. Located inland of the cosmopolite north of the Rhodes Island, only 15 minutes away from the sophisticated Rhodes Town, the village of Pastida is an oasis of Greece authenticity, surrounded by lush olive groves and citrus trees.
Small whitewashed houses, tiny and narrow alleys, the traditional central square where locals gather in the traditional cafes to discuss about the world news every afternoon - Pastida is a quintessence of a typical Greek village life. Book the accommodation in Pastida in a simple hotel room or your cozy apartment in Pastida village, and you are guaranteed an uncommercial and original holiday, still not feeling isolated, as whenever you wish you can take the transfers by bus or taxi to the cosmopolite Rhodes Town just nearby. Mingle with the village locals, and be sure they will always happily welcome you with a smile, in the traditional Greek way of hospitality, although most of them will not understand your language.
The popular Garden Hotel in Pastida offers you nice facilities, very clean and comfortable rooms and oh, there is a "nice pool". Your little one will simply love to splash in all daylong.
Enjoy in Pastida Rhodes the Greece sun and have a nice day at the nearby beach of Reni Koskinou,
Don't forget to explore the traditional Koskinou village. This is the only place in the whole Island of Rhodes where you can taste the traditional "melekouni" sweet, made by the housewives for the big feasts of the village.
To live the Greek life just like its simple people do it, book your next Rhodes holidays in Pastida village!