PANORAMA (****) - Rhodes Greece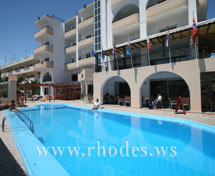 Rating:

Address:
41, Parthenopis Str. (Arapaki) / Rhodes
Phone:
+30 22410 37540, 37640, 37470
Website:
www.panorama-hotel-rhodes.gr
Rhode island characterized as the nymph of helium . You feel that you live in fairy tale at your tour in streets that sometimes walked knights. You will feel awe as will see impressive monuments of world heritage and buildings of important architecture that constituted beginning of learning and culture. In this place with the natural beauty, in this crossroad of meeting of important cultures and architecture we installed in 1986 our hotel. One from the most beautiful islands of Mediterranean, Rhodes, and for you we open the doors for a amusing conducted tour in our hotel Panorama. It is hotel of 3 asters, which was created in 1986 while his total renovation was completed hardly 2006. the traditional and at the same time romantic elements of older seasons, in combination with all the modern means of needs, composes a hotel ideal your for moments of relaxation, abandon but also amusement alone or with your family. After one rich morning which we offer in buffet, you can make a beautiful walk in the harbour of city, see the panoramic view from the hill of Monte Smith, know the market of Rhodes, walk in the Medieval City and discuss with the locals, the customs and their way of life.