SAVOY (**) - Rhodes Greece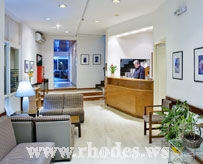 Rating:

Address:
9, Ethelonton Dodekanission Str.
Website:
www.savoy-hotel-rhodes.gr
This city hotel was opened in 1965 with 2 floors. The 3rd and 4th floors were added during the period 1972-1974. The hotel was renovated in 1995-1996 and 2000 making it look like new. A café cum bar has been opened from 2009. Located at the heart of the picturesque and medieval Rhodes town, with shops and banks around it our Rhodes Mediterranean Hotel is very conveniently situated. At the same time it has the unique advantage of having quiet precincts.
Our hotel is walking distance of Tennis Courts. You can also enjoy a lot of Water Sports near by. For all of you dying to go shopping, you will find a shopping center near by where you can buy gifts for all your loved ones and treat yourself with some great stuff.
Our Savoy hotel is situated just 0.8 km from the Rodos Port and 14 km from the Diagoras Airport. It indeed has a privileged location as all the major Rhodes attractions are just a few hundred meters away from it. Our Rhodes Mediterranean Hotel is within walking distance from the Old Town and Elli Beach (300 m away).
Its proximity to the Night life area and Playboy Casino (300 meters away) is an advantage for tourists. The Medieval Town and Crusader's Castle are located 500m from the hotel. Madraki Marina is 100 meters away and the aquarium is 600m away. While the Main Port is 1 km far from the hotel, the Afandou 18 hole Golf Course is at a distance of 18 km from the hotel.
Whether you are coming with your friends or you want to spend some quiet time with your family, our hotel can be an ideal option. It's also a great place of stay for business travelers. Our hotel has efficient staff and impeccable service. The hotel accepts credit cards too. The warm hospitality of this hotel will surely win your heart. So give this Mediterranean hotel of Rhodes a try and experience the difference yourself.
Click here to check availability