ACHILLION - Rhodes Greece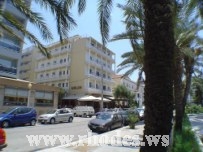 Rating:

Address:
14 Platia Vassileos Pavlou
Major Renovation: 2008
Number of Rooms / Beds: 49/86
The Achillion Hotel lies in the New Town of Rhodes. The hotel is located at the center of Rhodes Town 150 meters from the most popular beaches of the Rhodes Island. A unique combination of a warm atmosphere and high standards of service and excellent Greek & International Cuisine are only but a few of the conveniences the hotel offers this makes Rhodes Holidays special.
Room:
    
The Achillion Hotel 33 studios and apartments offer spectacular views of the beach and provide comfortable accommodation. The hotel is being continually renovated.
Room Amenities:
Bathroom
Fully equipped kitchen
Satellite TV
A/C