Domus Studios - Rhodes Greece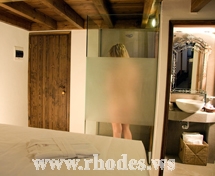 Rating:

Address:
Apolonion 11, Rhodes Town
villages:
Rhodes Old Town
Website:
www.domus-studios-rhodes.gr
Welcome to our hotel. We proudly offer you comfortable and relaxing accommodation in Rhodes.
If you have decided to travel to Rhodes this holiday, then you have surely made the right decision. Rhodes is the land of historic myth, romantic locales and exciting beaches. People of all age groups can enjoy a trip to Greece as it has so much to offer.
If you want to try some adventure activities, you can try lots of adventure water sports here. If you are looking for some quite time with your friends and loved ones, you can explore some great monuments and beaches. If you are looking to enrich yourself with the rich heritage of Rhodes then the options are limitless. The nightlife of Rhodes too gives you abundant options to choose from and to enjoy. You can explore the Old town of Rhodes for some historical visits and the New town of Rhodes for various shopping options. Rhodes can be an ideal getaway no matter what your requirement is. Rhodes can be your luxury destination and also a delight for those traveling in a tight budget. All you need is to be able to plan ahead and book your hotels and flights on time.
Our hotel offers you various rooms to choose from. Just check our Rooms page to find out more about them and the pricelist page for details on our current pricing. We offer you a lot of facilities with your apartments and our bar is there to offer you some cool drinks.
So just try our hotel and you will see how your holiday is transformed from ordinary to extra special and memorable.