GARDEN HOTEL (**) - Rhodes Greece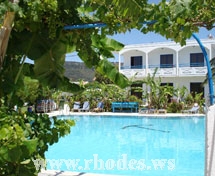 Rating:

GARDEN hotel is a family-run business which offers a warm and clean environment at low prices. It is ideal for people looking for a peaceful and quiet family atmosphere and good service. It is situated in the Filerimos Valley close to the airport, the city of Rhodes and Faliraki and yet away from the pollution and the noise.
GARDEN hotel has comfortably rooms with balconies, private automatic telephones, kitchen, refrigerator and bathroom.
At the back of the hotel, there are two swimming pools and 10,000 square meters of garden and orchard with trees and fruit from every season. The children's swimming pool is supervised by the bar and restaurant staff, and the main swimming pool is one of the biggest in Rhodes with a capacity of 830,000 litres of water, a diving board, a slide and high pressure (new technology) water massage equipment.
More over, there are: A bar, a restaurant and grill house with home-made food and fresh meat, two TV rooms, a Mini Market, and a playground
Facilities
· Come to the Garden Hotel, in a clean, quiet and comfortable family environment to have an unforgettable holiday, with Greek nights and the KARAOKE system BINGO and QUIZ.
· We guarantee for our home made fresh and clean food. English breakfast and large diners and B.B.Q. twice a week
· We hire cars, motorcycles and bicycles at low prices.
· Our Customers will be provided with free transportation to and from the airport.
· Also you can use our new bus for your trips. Safe and economic.
For the happiest days of your life, like marriage and birthday, we are here to organize everything and offer you unforgetable moments.
2 large swimming pools equipped with the latest technology devices including diving board, slide and spa
- children's swings
- mini market
- restaurant
- snack bar
- 2 T. V rooms SKY 1-2 & 3
- 10.000 sq. m. garden
- automatic telephones, refrigerator - fan and kettle in all rooms.
- Internet Access - Is available from a public station in reception
Reservation
4 stars luxury holidays for the lowest prices around.
Take a look at our prices and make your reservation
Prices are calculated for two (2) people and include accommodation and half bord
Our customers will be provided with free transportation to and from the airport.
Please take time to contact us requesting room availability or special offers via telephone, fax or email, or fill the contact form now. Be sure that we will contact you very soon providing the information you requested.
Ask for special offer for www.rhodes.ws visitors.
Price List:
April – May – October Eur 300 per week
June – July – August – September Eur 350 per week
For three (3) people: The third person pays 70 € per week for food and service. The accommodation is free provided he/she stays in the same room.