OLIVE GARDEN (**) - Rhodes Greece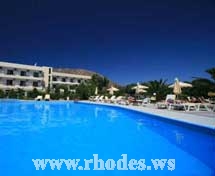 Rating:

Website:
www.olivegardenhotel.gr
If you are looking for comfort, beauty and service than look no further because you have found it at the Olive Garden Hotel. The hotel prides itself with beautiful views, all the comforts of home and service with a friendly smile. This small and friendly hotel has something for everybody, if it's fun, romance, relaxation, or entertainment that you are looking for then come on down and experience the true magic of Greece. Like an oasis surrounded by arid landscape and mountainous views, Lardos really screams out traditional Greece.
The Olive Garden Hotel is just a short stroll into Lardos village, and 350 meters to Lardos Beach. Lardos village is the perfect location for anybody who really wants to experience Greece. This old style village square is the perfect place to sit back and watch the world go by in one of its many bars or restaurants.
Unlike other resorts in Greece catered for tourists, Lardos has kept its Greek charm which makes it stand out from anywhere else on the island of Rhodes.
Beauty always goes hand and hand and that is what Lardos Beach is, natural beauty. This beach has a coastline as far as the eye can see, perfect for swimming, sun tanning, water sports, or even taking a romantic walk on the beach with your loved one.
Lardos is centrally located close to bigger commercial areas such as Lindos and Pefkos which is great for a day out.