Diagoras Hotel - Rhodes Greece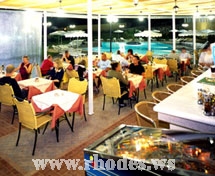 Rating:

The newly constructed Diagoras Hotel is located in a prime location with a superb view of the entire city and the beach of Faliraki. It is only about 1.5 km from the sandy beach and the city center. The bus stop for your traveling convenience, is only 3 minutes walk away. The buses travel to all destinations of the island, making very easy and affordable to do your own sightseeing!

The entire complex consists of four (4) different buildings, totaling 70 modern rooms, all with balconies and sea or pool view. In the main building that is located next to the swimming pool, you will find the Reception Desk, which is open 24 hours, a snack bar, restaurant, Satellite TV and various games. All rooms come with a small kitchenette, private bathroom with bathtub/shower and hair dryer for your convenience!

For a relaxing and memorable holiday, make Diagoras Hotel
and Faliraki beach, your next holiday resort hotel.
In our Restaurant and snack bar you can taste some of our exquisite dinners, ranging from Traditional Greek Dishes to Italian and other International tastes!.

In a friendly and relaxing atmosphere, you will feel very welcomed and will enjoy your dinner or lunch. We also serve some very cool and refreshing Drinks, including some of the nicest cocktails around!

Cool and refreshing ice creams are served at the Poll Bar all day and evening long. We are sure you will enjoy every minute with us!
For information on how to book with us, please click on Reservations. We will gladly reply to you with all the necessary information on how to proceed.