Nikolas Beach Rhodes Island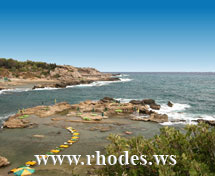 Looking for a quiet place to relax after a crazy night in the lively Faliraki?
Only 4 km away there is a little peace of heaven waiting for you - Nikolas Beach. Together with the two other picturesque beaches - Tasos beach and Oasis beach, Nikolas beach represents a real oasis of peace in one of the liveliest spots of the Rhodes Island, only 10 km away from its romantic capital - Rhodos city.
Everything about Nikolas is simply charming - a picturesque landscape, surrounded by clear blue waters, magically guarded by strangely shaped rocks.
Nikolas beach is the place to forget about any hustle and bustle, the place where you will recharge your batteries under the sun of Greece, and get yourself ready for the next booming evening party in Faliraki.
Nikolas Beach is also perfect for a swim stop in your way to the Rhodes city. The deep blue waters will make you feel like there is nobody else in the world - just you and the sea!
You can rest a bit on the golden brown sandy beach with the water searing on your skin.
Sip a refreshing ice-coffee at the only beach taverna, perfectly integrated in the scenery, and regain all your energy back - you are just ready to discover the amazing treasures of Rhodos.
Don't forget to pay a visit to Kallithea beach on your way to Rhodes. You'll feel even more refreshed by the scented air on this beach surrounded by pine trees.
Whenever in search for a break of the modern Rhodes Holidays rhythm of life and youth in Faliraki, Nikolas beach is the perfect relaxation spot offered to you by the generous Rhodes Island!