MEDITERRANEO POOL BAR - Rhodes Greece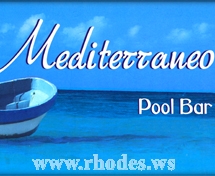 Rating:

Address:
37 Ierou Lochou St., Ialissos
Moments that will remain unforgettable. A place that you cannot simply pass by. A cool environment where the battle against the sweltering heat is won. Mediteranneo Pool Bar. So close to the city, so far away from the usual stuff.
Our barmen will mix our seasonal fruit-juice based cocktails and long drinks or prepare one of your own choice.
Just a few feet from the swimming pool you can relax while having a light lunch and a glass of cool spring water, beer or wine, or grab a drink at the poolside bar after a day's sightseeing.