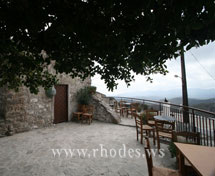 If you are looking for an authentic Greek spot in Rhodes, set in superb surroundings, than welcome to Profilia, with its tiny white houses climbing the slopes of the Gerakas Mountain!
Profilia is a very quiet and simply charming traditional village nestled in the south of the Rhodes Island, about 84 km away from its romantic capital, Rhodes Town, between Laerma and Mesanagros villages.
The narrow streets of the village guide your steps to the central square, where you can admire a beautiful church dedicated to Virgin Mary's birth, similar to all traditional villages of the orthodox Greece.
Locals of Profilia followed their faith in God over the centuries, and there are many religious monuments to testify it to you, such as the tabernacle of the Archangel Michael - Saint George, dating back to the 16th century, Saint Paraskevi and Saint John Prodromos "Miranos".
Grab a refreshing ice-coffee at the traditional cafe in the Profilia centre, and enjoy the calm and peaceful atmosphere of this picturesque village.
If you visit Profilia in August, don't miss the colorful festival of Saint John Prodromos "Miranos", bringing a dash of life in the quiet village on the night of August 28th.
The superb mountainous scenarios surrounding Profilia invite you to hike. The pebbled rural roads get lost in the lush pine forests, the home of Dama-Dama deer and of many other species of fauna and flora. The unspoiled environment of Profilia is protected by the European Network "NATURA 2000".
Explore even more the beautiful nature and drive to the neighboring Vati or Istrios villages.
If you wish to relax on the beach, a short drive away you will find the popular village of Pefki with the Saint Paul beach proximity, and for a bit of spice in this oasis of silence, attend the famous beach parties at Gennadi.
When looking for a quiet traditional spot during your Rhodes holidays, Greece is offering you Profilia, to find your peace of mind in the middle of the unspoiled nature.